Home Visits Acupuncture Service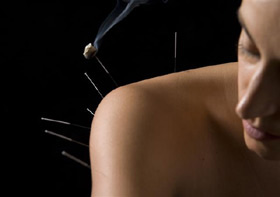 Many people could benefit greatly from acupuncture but can find it difficult to access a clinic.

As well as practicing acupuncture at clinics located in both Nottingham and Derbyshire, I provide a home visits service in the Nottingham area.

Although primarily set up to provide a professional acupuncture service to people with limited mobility, I have found that many patients appreciate the benefits of a home visits service. Many patients prefer to receive acupuncture in their homes for reasons such as:

Receiving treatment at times that clinics are rarely open at (I take appointments between 8am and 8.30pm) Being able to relax in their own home immediately after treatment Avoiding having to travel in foul weather Not having access to good transport links Saving time on travel Being able to have a friend or relative present when treated Not having to arrange cover for people they care for

One of the best examples of a condition that limits mobility and which responds well to acupuncture is that of arthritis with approximately 9 million people in the UK being affected. Acupuncture is also an effective treatment for back pain and sciatica. The National Institute for Clinical Excellence (http://www.nice.org.uk) states in its recent guidelines for non specific lower back pain that acupuncture is a cost effective management option compared to usual care. As a member of the British Acupuncture Council and having complied with inspections from the Local Authority you can be sure that in my hands acupuncture is a very safe technique. (I also have an up to date Enhanced Criminal Record Certificate). All of the equipment that I use for home visits is maintained to the same high standard of cleanliness that I use in clinics in line with strict health and safety guidelines:

Using sterile single use acupuncture needles Having a sharps disposal bin for containment and removal of used needles Use of anti bacterial hand wash Adjustable treatment couch with washable surfaces Use of disposable couch roll

For home visits all that is required, is enough space to safely put up a treatment couch with sufficient room to move around it, as well as a level surface for a stainless steel tray and not too many interruptions.