Is Acupuncture Safe? What does it feel like?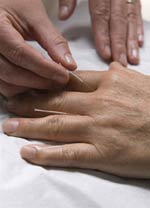 There have been many studies into the safety of acupuncture; notably 2 recent British surveys which together analysed data from over 60,000 acupuncture sessions. These projects recorded the frequency of adverse reactions as very low, a finding expressed in a 2001 article in the British Medical Journal. "The accumulating evidence continues to point … that acupuncture is safe in the hands of competent practitioners."

As a member of the British Acupuncture Council I abide by strict standards of hygiene which includes the use of sterile disposable needles. A typical needle is 0.20mm in diameter (with a precision ground tip). Insertion is quick and usually not painful. Patients sometimes experience tingling, a dull ache or heaviness in the local area; these feelings are a good sign of the gaining of "Qi". Needles are usually in place for 20 minutes. Most people have a feeling of relaxation during acupuncture treatment.
Some people feel nervous about needles so I will let you know where and when a needle will be inserted.
I have successfully treated many patients who were frightened of needles.

"I contacted Matt after suffering for 4 months with menstrual irregularities. Having experienced shorter cycles with increasing pain I was exhausted and had difficulty concentrating.
It was beginning to impact heavily on my quality of life and my work commitments and I was ready to try anything. I made an appointment and met Matt. He put me at my ease with his humour and understanding... During the initial consultation he explained everything in a professional yet easy to understand manner that someone like me with little medical or scientific knowledge could follow. Matt was very patient and did his best to make me feel relaxed, secure and at ease despite my apprehension of needles, a fear which stems back to childhood. The inserting of needles was not painful and the whole experience was actually quite energizing. After two sessions I felt a definite improvement.
From being a little skeptical at the start I would now recommend acupuncture to everyone..."
Samantha

For any patient who has not received acupuncture before I would usually begin with a gentle treatment. If a patient's fear cannot be allayed I can often rely on other techniques such as acupressure, massage or cupping.