No Need to Visit a Clinic…
As well as practicing acupuncture at clinics in Nottingham and Derbyshire I also provide a mobile acupuncture service in the Nottingham area.
When I started working as an acupuncturist I became aware of a demand for acupuncture from patients with limited mobility.
Many people could benefit greatly from acupuncture but mobility issues can make it difficult to visit a clinic.
This inspired me to start a mobile acupuncture service.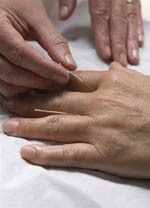 The main advantage of an acupuncture home visit is that people with limited mobility can also receive acupuncture.
But many busy people without mobility problems can also benefit from the services of a mobile acupuncturist. For example, I can offer you acupuncture treatment when most other clinics are closed (8am to 8pm in case you're interested…).
Give me a call on 07753179377 for a chat. Leave a message if you have to – I'll get back to you.
Acupuncture originated in China but is becoming increasingly popular in the west. It was developed as a complete system of medicine and as such its scope is huge.
Today it is best known for treatment of pain – including arthritis and back pain – which respond well to acupuncture.
Over 80% of pain clinics in the UK now use Chinese acupuncture but it is also an effective treatment for a wide variety of other conditions.
Acupuncture is also an effective treatment for sciatica.